I got back from IPComm in Brazil 2 weeks ago. It was great meeting several OpenR2 users and even people who has contributed code. One of the cool things of this conference was that Jim Van Meggelen, one of the authors of "Asterisk – The future of telephony" wrote a white paper about OpenR2 installation with Sangoma boards, the white paper was translated to Portuguese in order to have hard copies distributed at the show, but, here are the links for the soft copies:
http://www.sangoma.com/data/docs/MFCR2_and_Sangoma_English.pdf
http://www.sangoma.com/data/docs/MFCR2_and_Sangoma_Portuguese.pdf
I expect the OpenR2 Brazilian community to keep growing even more now that the first release is about to be done.
Enough about Brazil. Let's talk a bit about Canada. Just a few days after getting back to México from Brazil, I moved to Toronto, Canada in order to start working at Sangoma's offices. What a change!, just yesterday we had a snow storm, just check this out:
But, aside of the weather, everything else is great. We got a nice apartment about 2 blocks from the CN Tower and the cable guy just came a few minutes ago to install internet, tv and phone, and look this: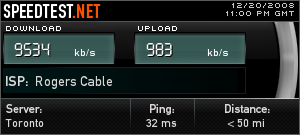 Finally a decent internet connection. As if that was not enough for Christmas gift (for me anyway), Sangoma gave everyone in the engineering department a very nice Christmas present: An Acer Aspire One, ain't that cool?
So, past Thursday was my first day working at Sangoma's offices and I must say I think I'm gonna enjoy my work like never before. No stupid meetings anymore, just technical meetings discussing relevant aspects of development. Management reports just don't exist, we briefly speak to our manager once in a while, who happens to *really* know how to architect and write programs and in fact is one of the biggest code producers in the company, not a guy who can't code and is promoted to a management position.
In conclusion, Sangoma rulez 🙂